Published by Wickedly Hot Vapors on 9th Jan 2018
The JUUL is a completely new type of vaporizer that is hitting the market quickly across the US. JUUL Vapes sought to take on changing FDA regulations and the changing needs of consumers, to produce a more effective and widely accepted vaporizer. When you open the box and spot the unusual rectangular device, you'll start to understand just how different it really is. This JUUL Vape review will highlight everything you need to know.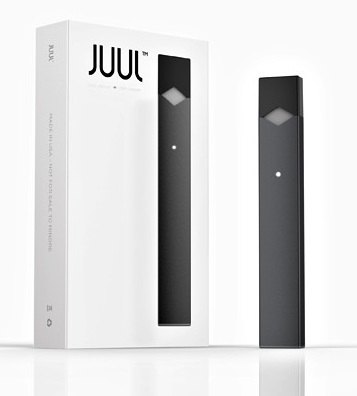 What is the JUUL Vape?
The creators of the JUUL vaporizer wanted to make sure that people could tell the difference between their devices and other vaporizers. That's why they made the flat, rectangular vape pen. Instead of using cartridges that look and feel like a traditional cigarette, they use small juice pods that slide easily into the end of the device. You'll notice that the JUUL Vape is smaller than most other vaporizers, making it ideal for portability.
Ease of Use
Unlike other vaporizers that use screw on batteries and accessories, the JUUL uses a magnetic endpiece to instantly attach to your charger. The JUUL USB charger can be used with your computer so you can recharge at work or at home, and you won't have to worry about carrying around extra batteries or having a large charger on your desk. All you have to do is slide the pod into the device and take a draw.
JUUL Juices
JUUL has also changed the face of nicotine juices as well. Instead of relying on mainstream e-liquids that could be outlawed in the next few years, JUUL has created a totally new system. By using a different type of nicotine and benzoic acid, the JUUL Pods provide a much stronger hit right off the bat and allow you to feel the effects of your vape. This also allows for stronger and more predictable nicotine ratings as the nicotine takes a form closer to traditional tobacco products. In addition, JUUL starter kits already come with four great flavors to try including a fruity flavor, a menthol flavor, traditional tobacco, and a fun dessert flavor. These pods are roughly equivalent to a full pack of cigarettes, so they last for a full day for most users.
The Best Vape Pen for Smokers
With more and more smokers making the switch to vaping, the JUUL Starter Kit presents a clear path to smoking cessation. It is ideal for anyone who has tried cig-a-likes in the past and felt underwhelmed. It is also great for current vapers who are concerned that their e-liquids or devices may soon be taken off the market.
JUUL vape pens are now available at Wickedly Hot Vapors, and please don't hesitate to reach out with any questions!